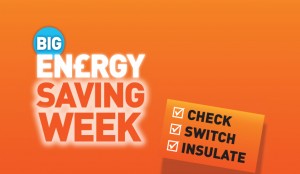 Citizen's Advice Bureau and partners have embarked on Big Energy Saving Week, which is a campaign to help people cut their fuel bills. It's well timed in the last week in January when everyone's shivering in the cold and counting the days 'til February's paycheck!
They offer some good basic energy saving advice including:
how to check whether you're getting the best deal on fuel
how to switch to a better tariff
decreasing the amount of energy you use, and
where to get help if you're struggling to pay your energy bills
There are numerous events scheduled to support the initiative, which is about helping customers learn what they're entitled to so that anyone who's worried about paying for energy or looking for advice can get support.
Tony Keeling, the Director of Customer Service for SSE, which is a partner in the initiative, wrote: "The vital thing for me is that more people know we are here to help. That's why throughout this week SSE energy experts will be out and about offering advice on the changes people can make so their homes are warmer."
There's a lot of good stuff on #BESW2014, who's motto is "check, switch, insulate". Although insulation is an easy and cheap way to warm your home and reduce your energy bills, new research reveals that fewer than 1 in 5 people have actually done so.
Watch the video from CitizensAdvice here: