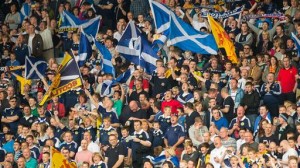 Scottish football; It really divides opinion doesn't it?  Whether it's Rangers and Celtic fans at each other's throats in the west of the country or Hibee's and the Jam Tarts giving it their tuppence worth in the capital on derby day it fuels argument and sometimes (very) heated debate.
To me it's all a bit like the old my Da' is better than your Da' argument but one thing that is undeniable is that us Scots LOVE football and if we were as good at it as we are passionate about it, without doubt we would be within the highest echelons of world football with your Barcelona's and Bayern Munich's for sure – we can but dream.
I digress, but the question I wanted to really ask is – do we get value for money in this country when we go and see or favourite teams?  Who gets the best value for money within the Scottish Premiership (and Rangers to keep things amicable) when they go and see their favourite teams and how do they fare against some of the top teams in Europe in terms of value for money and entertainment – cause goals mean entertainment, right?
So how did we compile this data?  Well, a very good friend of mine, @Scott_McLay, was kind enough to pull all the information which we have input into the table below for everyone to enjoy!  First, we took the number of goals each team has scored at home in their respective leagues and then forecasted what each team will score across the course of the season.  From there we then calculated the number of goals vs. the CHEAPEST adult season ticket available at each club – meaning we know how much the average fan pays to see their team to score a goal.
Additionally, we have also calculated how much each goal your team CONCEDES will cost you as well, just to be fair!
In Scotland, without doubt the fans that are getting the most for their money are the not-so-long-ago relegated Rangers FC, who currently play in the Scottish League One.  Rangers fans pay the least amount of money per goal in Scotland – a bargain at £2.09 per goal.  Now there are obviously factors such as lower season ticket prices to get people through the gates and playing lesser quality teams, but hey a bargain is a bargain!
Fans of Partick Thistle might not be happy to read these stats.  Over at Firhill, Jags fans can expect to pay £35 for each goal their team manages this term – not happy reading for the boys in the West End of Glasgow but they can be safe in the knowledge that they are only edged out of our table by advertising and sponsorship football juggernaut Manchester United, not bad company to keep!
United fans can expect to pay £28 for each goal their team scores – although I have a sneaking suspicion that their season ticket prices are to blame rather than goals scored over the course of a season.  But where does Scottish Football sit amongst the top table of European football?
Topping the table is Bayern Munich who, if you buy a season ticket priced £67 can expect goals flying in at the best value of £1.97 for each one that hits the back of the net.  German football has enjoyed something of a resurgence in the last decade, typified by last season's Champions League final in London between Bayern and Borussia Dortmund.  German football is good to its fans because it's cheap to get into games there, approximately £10 a match (compared to £26 in Scotland) and with talent arguably far higher in abundance.
So we know which teams give their home supporters the greatest entertainment but which Scottish teams' make the fans tear their hair out with the number of goals conceded when they are playing at home?  Turn away now Killie fans – your Ayrshire pies may something short of spectacular but your defence is not.  Kilmarnock top the goals conceded table as with their cheapest season ticket they pay £4.88 each time they concede a goal at home.
The stingiest team on our list is clearly Chelsea whose fans get the best value for goals scored against them.  Based on the cheapest season ticket they have available Blue's fans rack up £99.17 each time a goal is scored against them – to put that in comparison Manchester United are the second nearest team to Chelsea – coming in at £40.92 per goal conceded.
So to answer the question does Scottish Football represent the best value for money in the entertainment stakes – well, yes and no.  Compared to our English neighbours we do.  Because of the huge rise in popularity in the English Premiership clubs have forced their ticket prices up to cover dizzying wages that playing in England offer.  This means it costs more per goal scored for each team making the Premiership, in our view, less value.
So to the continent where we cannot argue the fans in mainland Europe are getting magnificent value.  From our data table only one of the top seven teams listed were Scottish the remainder hailing from Spain, Germany and Italy with the worst in this group, Juventus, costing their fans a £5.11 for each goal scored – not bad at all with Andreas Pirlo and Paul Pogba strutting their stuff on the field for the amount.
We hope you enjoyed this article and if you would like to see where your team fares against our list why not add the teams' details on our open-source data sheet.  It's really simple all we need is:
Club
League
CHEAPEST season ticket price
Home games plays
Goals scored at HOME
Goals conceded at HOME
Home games to be played across the season
As you add this data the table above will expand and we will write some follow up articles with some lovely graphics and all nice data which people like me enjoy as its cuts down on the reading!  So you can enter all that information here.