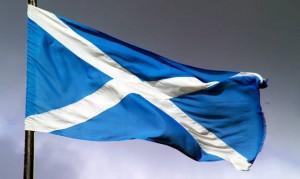 With one year to go until Scotland decides where its future lies within the political landscape of the United Kingdom one question which arises in my mind (and many more) what will happen to the energy industry if a Yes vote is cast.
What will happen to the renewable energy industry in Scotland – would gaining greater political responsibility prove to be a coo for the Scottish energy industry or would we still rely all too heavily on subsidies from the UK government?
Peter Dempsie, who is a campaigner for the Yes campaign has written a blog post about sustainable energy in an independent Scotland and states that Scotland would flourish under a Scottish government.  His piece for the Yes Scotland blog states that only if the country votes yes could we realise the true potential of Scotland renewable industry – 25% of Europe's wind energy crosses Scottish landmass, which underpins this potential.
Also, in the news this week was Scottish government's approval for a tidal turbine energy project – the largest of its kind in Europe which will be situated between Orkney and the Scottish mainland and will provide enough energy to power 42,000 homes – that is 40% of the homes in the Highlands.
So, Scotland certainly has the potential to become a clean energy leader as these projects and capacity prove but this all requires to be paid by someone, right?  In July, the BBC reported they had seen documents outlining energy policy in an independent Scotland which contained information about moving away from fossil fuels and towards a cleaner renewable future.
This plan also entailed maintaining a UK- wide energy market post-independence and continuing to receive subsidy payments for renewable projects north of the border, which many in the rest if UK would question as they wouldn't need to continue that relationship.
However, from an objective view this could be beneficial for England to continue on this path as down the line cleaner energy targets need to be met and as mentioned previously, Scotland has these cleaner resources by the bucket load which if the energy market remained status quo this would be of benefit to the rest of the UK, even after the referendum.
There are many things to still be discussed with this campaign and the white paper Alex Salmond's government, the SNP, will surely offer up more answers to the people of Scotland and provide more insight as to how Scotland will work in the days after a yes vote.  I, for one, am eager to hear what they say and I am also keen to hear what the people think, please leave your comments below.