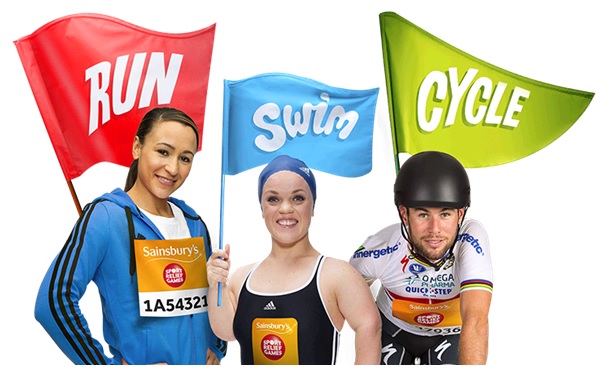 Sport Relief is an event which brings the whole nation together to have fun, do something active and raise money which can change lives.  Sport Relief takes place between Friday the 21st and the 23rd March but before then there are a number of events taking place, some of which are outlined below in our A to Z!
Partners include Sainsbury's who will sell Sports Relief branded items such as clothing and other merchandise which will contribute towards the charity fund as well as British Airways and The English Football Premiership who are raising money through their specific channels to support this great cause.
There is also additional support coming from some of o the UK's largest brands such as energy firm SSE who have pledged to donate money each time customers pay by Direct Debit, take an energy efficiency survey or switch to paperless billing.  Not only will this help raise money for Sport Relief it will also help you save money! So, let's crack on….
A is for Athletes – And everyone else who takes part to raise cash for charity.
B is for Bake Off – The Great Sport Relief Bake Off might be over for this year but why not get into the fundraising spirit and host your own bake sale.  You can even buy Sport Relief aprons to cover you up from all the mess you make!
C is for charity – The money raised from Sport Relief goes to helping people in the UK and worldwide and includes giving shelter to young people who are living on the streets and providing communities with fresh water and medicine.
D is for donate – Donations to Sport and Comic Relief make a big difference; for example, if you choose to give £30, you could pay for 6 young people in the UK with a disability to take part in sport.
E is for Events –Whether you're sporty or not, there are more than a thousand events happening across the country, and there's also the option to organise your own event.
F is for Fundraising – There are loads of ways to raise money for Sport Relief: by getting sponsored to run, swim or cycle, or by fundraising at work, at school or in your local community.
G is for Games – Check out the games at sportrelief.com – there's also an ideas lab where you can come up with some great fundraising ideas.
H is for Hop-a-thon, dance-a-thon, skip-a-thon or any-other-athon! There are plenty of tools, tips and resources available to help you get your school involved in Sport Relief this year.
I is for Ideas – Ideas for getting sponsored, ideas for getting others to donate or take part, ideas for things you can sell to raise money – and much, much more.
J is for #jointheband, part of the Wristbands for School initiative. If you've got a Sport Relief
wristband, take a selfie and post it on Twitter.

K is for kitchen – The Great Sport Relief Bake Off was held last month, judged by master baker Paul
Hollywood and cookery writer Mary Berry. Who knew Olympic athletes like to bake in their spare time?
L is for Little Mix – Here they explain Sport Relief and how to get involved:
M is for Mile – Are you someone who only ever runs if it's for the bus? You can get sponsored to run just 1 mile on the 23rd March and it's for a great cause.
N is for Nation – Sport Relief brings together the whole nation from Friday 21st to Sunday 23rd March to "get active, have fun and raise life-changing cash" – and it really makes a difference.
O is for Online – Once the fundraising is over, it takes just a few minutes to pay in your money.
P is for partners: There are over 35 official, tech and mobile partners supporting Sport Relief – including Sainsbury's, BT, SSE and British Airways.
Q is for Queen Elizabeth Olympic Park – the iconic venue where the Mile, Swimathon and Cycle will be held.
R is for Raise cash and change lives J
S is for Schools – last year, 1.2 million children took part helping to raise an incredible £5.8 million. From nurseries to youth groups, UK schools did an amazing job of supporting this cause.
T is for Top Dog – A new TV series launching next month on BBC Two; basically you pick your favourite pup to support and the dogs and their owners will compete a series of challenges (like Survivor… but for dogs).
U is for Upload – Check out the showcase gallery of fabulous fundraisers and upload your own photo or videos from the events.
V is for Venues – Over a thousand across the UK, so don't despair if you're not in London, there may just be an event near you.
W is for Wristbands – And balloons, stickers, posters, aprons, socks, badges, t-shirts and more. Free fundraising kits, packs for schools and merchandise all support the disadvantaged people in the UK and elsewhere.
XYZ is for amaZing – Sport Relief is one of the UK's biggest fundraising events, so whether you can give a lot or a little, check it out and get involved!
IMAGE ATTRIBUTES
Top image: http://www.sportrelief.com/
Middle image: www.twitter.com
Bottom image: http://www.sportrelief.com/fundraise/fundraiser-showcase